How to Pick Your Braces Color —
Get Your Favorite or Mix It Up!

Today's braces can do a lot more than straighten your teeth. You can show off your personality by picking your braces' color! Your braces have tiny elastic bands that go around the brackets. You can choose your favorite color or mix and match colors to show off your personality or team pride.
At Hentscher-Johnson Orthodontics, choosing the right braces color is important to our patients. So we have a few tips on the best ways to pick your braces color.
What Color Braces Should I Get?
We offer a color wheel full of colors for your braces! It means you have a good chance to find your favorite color, but it also might be difficult to choose!
Here are a few tips on choosing good braces colors:
Black, Green, or Brown: These colors are OK but might be mistaken for having food stuck in your teeth.

White braces: The white elastics may reveal that your teeth aren't quite as white as they could be. The white elastics may easily stain, especially if you drink coffee, tea, or soft drinks or eat foods like berries.

Yellow/Gold:

May highlight the appearance of any yellow tones in your teeth.

Navy Blue: Darker shades like navy/royal blue can make your teeth look whiter.

Light Blue: This shade can make your teeth look brighter
Sometimes, using the same color on all brackets might be better. In other cases, it might be better to stagger them with other colors. Choosing colors complimenting lighter skin tones or darker skin tones is another way patients choose. Some colors pop with different skin tones!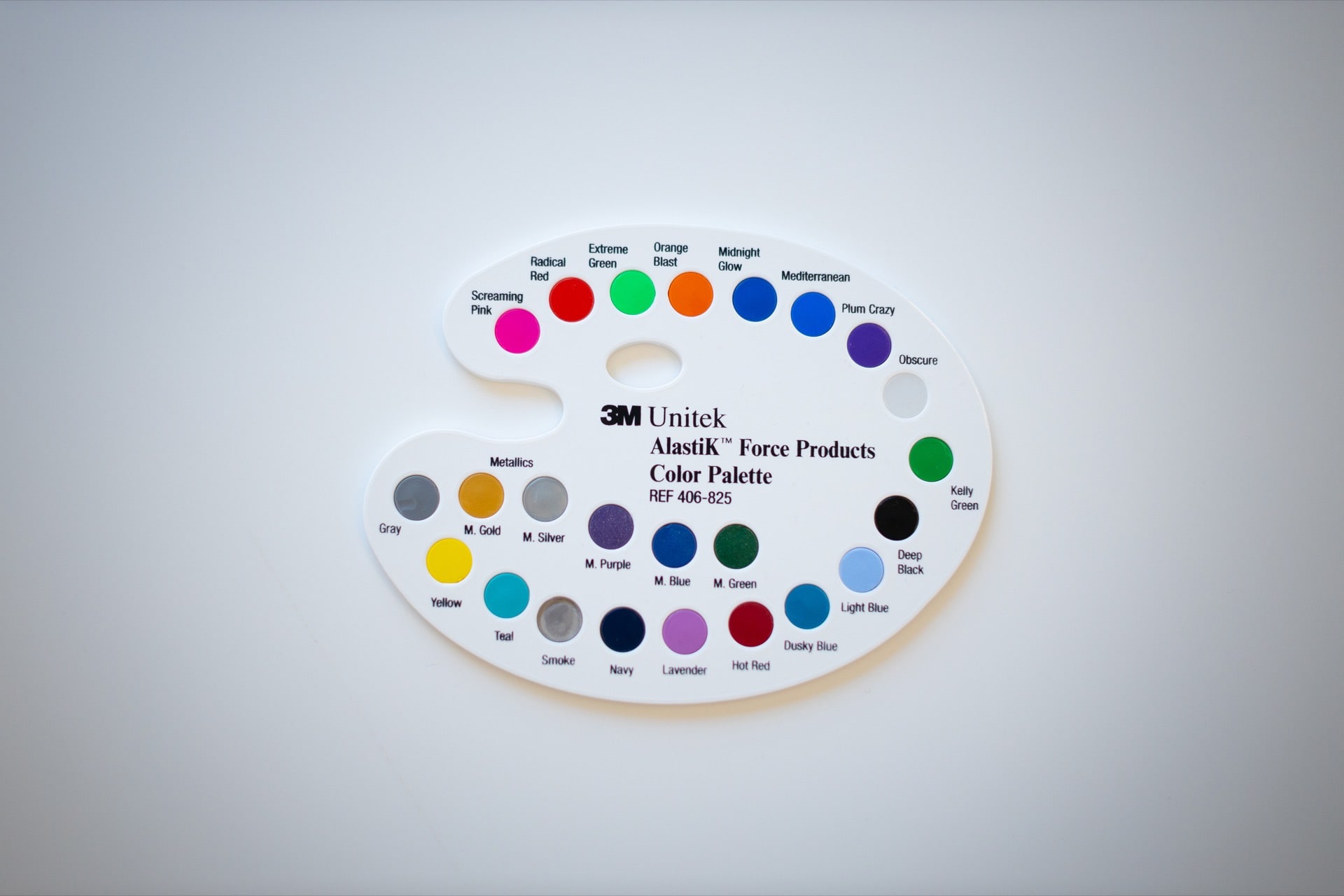 What Do Picking Certain Colors Say About Me?
Different colors have different meanings, which may be something to consider when picking your braces color or colors. Here are a few meanings of the various colors:
Red: Passion, power, strength, courage, love.

Orange: Enthusiasm, creativity, health, happiness.

Yellow: Cheerfulness, warmth, energy, optimism.

Green: Good fortune, harmony, growth, nature.

Blue: Calmness, faith, intelligence, power.

Purple: Royalty, mystery, luxury, creativity.

Pink: Tenderness, emotional, love.

Black: Bold, mystery, strength, power.

White: Innocence, purity, hope

What are the best colors for braces? There are so many options!
Picking Braces Colors for Special Occasions
Because you visit your orthodontist regularly, you don't have to stick with the same color throughout your treatment. We think it's perfectly OK if you want to mix it up!
Some patients want to show off their school pride by picking their school or favorite sports team colors. Others want to celebrate the holidays with colors for July 4th, Christmas, or Valentine's Day.
What If I Don't Want To Show Off My Braces?
Maybe you don't want everyone to see your braces easily. Perhaps you chose clear braces because they were less visible than traditional metal braces. That's OK, too! Our elastic include more low-profile colors, from white and clear to more "tooth color" elastics.
The best part is you can always make your braces bolder later. If you don't like them, we can change them so you can return the look that clear braces give you!
How Often Can I Change the Color of My Braces?
Most patients who change their braces colors for a holiday or special event want to change them once it is over. How often can you change the braces colors you pick?
We change out your elastics with each orthodontic checkup. That means you get to change your braces' color combinations each time you visit or stick with the same colors. We're open to your creativity.
Picking Your Braces and Your Braces Colors
Hentscher-Johnson Orthodontics offers clear ceramic braces that use elastics of any color you pick. Our ceramic braces match your tooth color, but you can enhance them with good braces colors!
We also offer Damon Self-Ligating Braces. Unlike traditional metal braces and clear ceramic braces, these do not use elastics. Instead, they hold the archwire with small metal clips that hold the wire in place. This results in less friction and more comfort for the patient.
For those who aren't into showing off their braces, we have the option of Incognito Lingual Braces. These sit behind the teeth on the tongue side and are virtually invisible braces.
In addition to braces, we also offer Invisalign and Invisalign Teen, and 3M Clarity Aligners. These options are for those who don't care for the look of braces and want something more low profile.
Are you looking for bright colors or something that complements your eye color or skin tone? At Hentscher-Johnson Orthodontics, we'll walk you through our braces color wheel. Our goal? To help you choose braces colors that boost your confidence and suit your style!
Are you in Colombia, IL, or Waterloo, IL, and ready to embark on a journey toward your dream smile? Contact our office for a complimentary consultation!