---
Meet the Team - Orthodontist Waterloo Columbia IL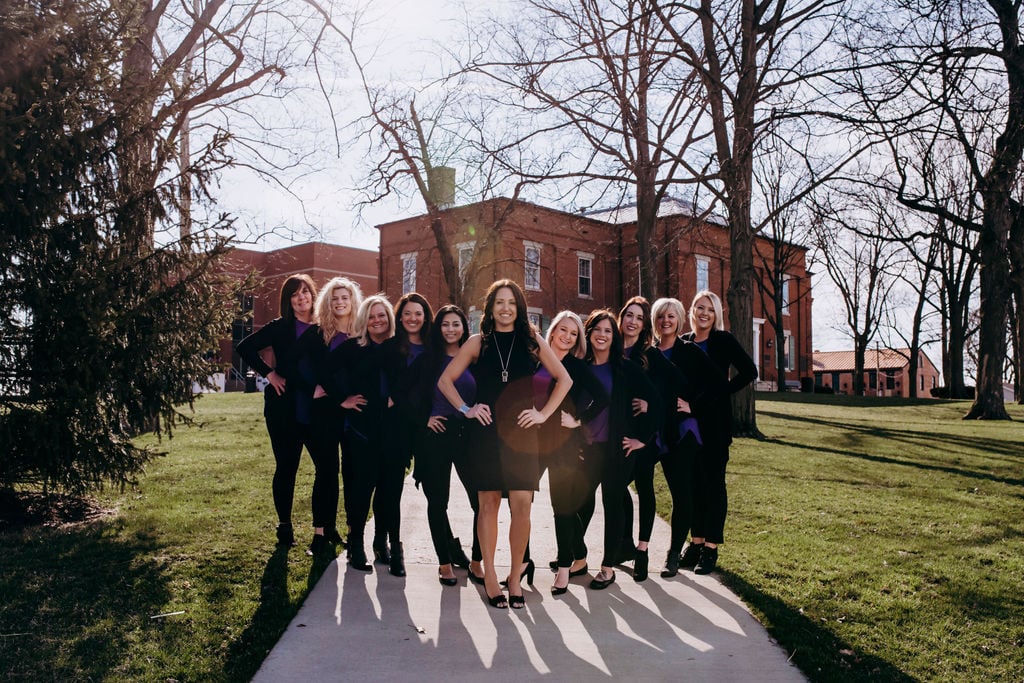 Amber
Administrative Manager & Insurance Specialist
It's fun to come into the office every morning knowing that I'm going to be spending time helping people from our community. I work at our front desk, handing all of our inbound calls and checking patients in and out at every appointment and schedule the next appointment. I also check insurance benefits, set-up payment arrangements, and assist our patients with flexible spending accounts and coordinating insurance benefits. Additionally, I manage our website, reply to emails, and handle our correspondence. I'm busy, but always have time for a quick chat with patients and parents!

Away from work I spend a lot of time with my family, including my sons, Griffin and Deacon, my husband Nick, and our two German Shorthaired Pointers, Penelope and Cash. I love running and dancing. In fact, I attended a professional ballet school. I'm also an active member of CROWN (Columbia's Resourceful Organization of Women Networking).
Karen
Administrative Manager

& Treatment Coordinator
I do a little bit of everything in the office, I started working the dental field in 1982. I enjoy every aspect of helping our patients in their pursuit of a beautiful, healthy smiles. We have a great team that sincerely loves our patients and cares about giving them a smile that will last a lifetime. Dr. Jodi is fun and I like that our patients are happy to come in for an adjustment, pick new colors for their braces, and tell me about all the things they have been up to. I think we all bring something special to Hentscher Johnson Orthodontics and I'm excited to be a part of a team that is involved in the community.
I am very devoted to my family - My husband Jim, my children - Adrian and his wife Rebeca, Alyssa, Nicholas, and Reid) and my grandson Robinson Yadier. We have two dogs and 3 cats at home and when there is time I like to garden, spend time in the kitchen canning, and read. I also like to watch the Cardinals play baseball!
Latasha
Clinical Assistant
I have been an ortho assistant for two years. I did my internship at Dr. Jodi's office and loved doing ortho and can't imagine doing anything else.
Outside of the ortho office I am a hairstylist and have been doing that for 11 years. Otherwise, I spend time with my husband Doug and my three kids Austin, Lilly, and Jacob. We also have a dog namd jack. We love going swimming, boating or just enjoying time with one another.
Michele
Clinical Assistant
Watching the changes in our patients, as their new smile develops during treatment, is the best part of my work. I love, at the end of treatment, looking at the before and after photos and seeing how far each person has come. Patients' smiles change, and their whole way of looking at the world changes, too. They're more positive, they have greater self-esteem, and they laugh and smile all the time. I seat patients when they arrive for their appointments and provide assistance, chairside, while our doctor cares for them. I also sterilize our equipment, tools, and treatment areas, keep our offices clean and tidy, and maintain our dental equipment. Additionally, I help with school presentations for dental health awareness and orthodontic health month.

My home life is shared with Michael, my partner, son, Aiden and daughter, Logan. Spending time with my family is always my highest priority, and I love outdoor activities with them, even if we're just hanging out at the pool.
Missy
Clinical Assistant
It's incredible to watch a patient's self-esteem and confidence build as their smiles change. Being part of that change, and getting to know each person during the treatment process, means I get really excited and am happy for them. Laughing with my patients is always a joy, and I love how they come in ready to share their latest adventures and jokes with us. I coordinate our clinical procedures, am a chairside dental assistant, and order clinical supplies. I also take photographs, X-rays, and impressions, handle our office contests, write our Facebook posts, and am in charge of Trivia Tuesday.

My life is shared with my two sons, Joe and Nick, and our family dog, Licorice. I enjoy summer outdoor activities, including traveling to the beach, following Cardinals baseball, and visiting the shooting range for target practice.
Aubree
Clinical Assistant
Sara
Clinical Assistant
Kayla
Clinical Assistant
Mallery
Clinical Assistant
Nikki
Clinical Assistant